September 8th, 2021
Gov't implements online health pass platform for travelers arriving in PH
The Philippines opens it's 'One Health Pass' portal which is an online registration for travelers and returning Filipinos.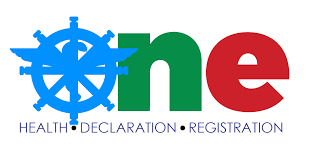 The "OneHealthPass" is an online platform that aims to promote the convenient and seamless movement of international travelers from departure from the country of origin to arrival at the local government unit of destination.
"This a big help to our fellowmen going home to the Philippines. Its purpose is to reduce the inconvenience they encounter going home, " said Bureau of Quarantine (BOQ) Director Roberto Salvador, Jr.
The One Health Pass automates all the processes as travelers can register to OneHealthPass via https://www.onehealthpass.com.ph/e-HDC/.
Returning overseas Filipinos (ROFs) would need to register from their point of origin on the electronic health declaration checklist only once.
All information would be passed on to concerned government agencies such as Overseas Workers Welfare Administration, Department of Tourism, Maritime Industry Authority, Philippine Coast Guard, and Overseas Shipping Service.
"When they arrive in the Philippines, the Bureau of Quarantine will check the QR code. The system in getting clearance from us is paperless," Salvador added.
The Bureau of Quarantine said Filipinos arriving via international flights should log in at onehealthpass.com.ph and fill out the corresponding form three days before travelling to the Philippines to generate a transaction number.
Under existing protocol, returning Filipinos from overseas are subjected to 10-day facility quarantine, with the RT-PCR COVID-19 testing to be done on the seventh day.
Crossworld supports this new procedure which will help in speeding up the process of returning Filipinos get home to their families. This is also welcome news to Filipino seafarers who are sometimes affected by the documentation problems upon returning to the Philippines.