August 19th, 2020
Groups Push for More Flights for Stranded Seafarers
Some groups and an airline firm are asking the government to allow more humanitarian flights to cater to stranded Filipino seafarers abroad. They say there are an estimated 100,000 of them who are either stranded abroad or waiting for flights to board their ships.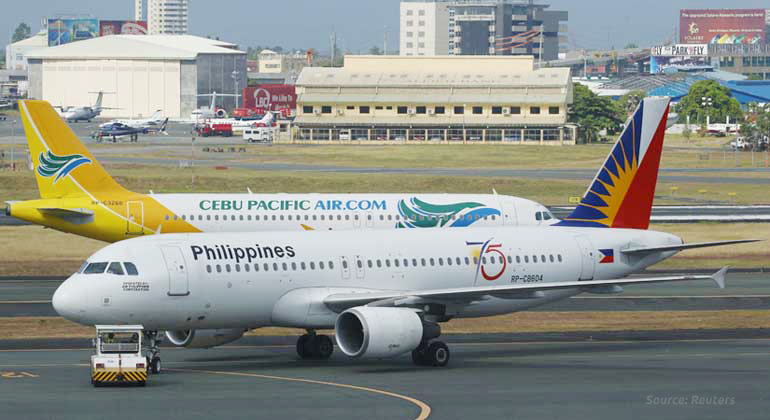 The International Transport Workers' Federation (ITF), Associated Philippine Seafarers Union (APSU), Associated Marine Officers' and Seamen's Union of the Philippines (Amosup) and Qatar Airways expressed their support for the seafaring industry and offered additional daily humanitarian flights to the airports in Cebu, Clark and Manila.
The Trade Union Congress of the Philippines (TUCP) also expressed support to the seafaring industry, saying 80,000 to 100,000 Filipino seamen were in danger of not being able to go home or of being deployed because of lack of available flights.
"This has to be immediately addressed by the government otherwise we are at risk of losing the international seafaring market," TUCP President Rep. Raymond Mendoza said.
The government, he added, should consider the offer of Qatar Airways to open additional flights to Cebu, Clark and Manila to help clear the bottlenecks caused by the caps on arrivals at the Ninoy Aquino International Airport (NAIA) and other major ports.
The NAIA imposed a limit of 3,000 arriving passengers and 3,000 for departure daily, while Clark and Mactan airports allow only 1,500 each for arrivals and departures. Meanwhile, as domestic and international flights start to resume, the Civil Aviation Authority of the Philippines (CAAP) regularly updates list of airports with Local Government Units' (LGUs) clearances to resume airport operations.
As of 19 August, there are already 32 airports in the country whose LGUs have issued orders supporting the resumption of commercial airport operations in their areas of jurisdiction. Note that some airports, while allowing the resumption of commercial flights, are subject to different documentary and passenger LGU restrictions. It is advised to do necessary coordination with both LGU and selected airline prior to booking of flights.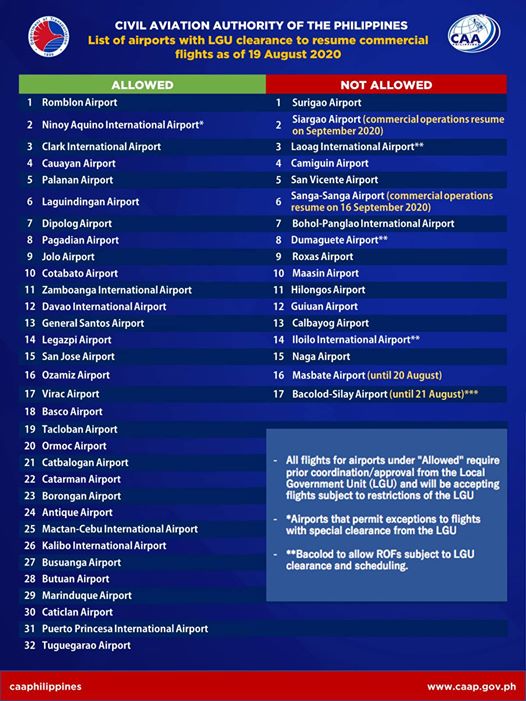 Sources: Manila Times, CAAP news