May 13th, 2020
COVID-19 Updates on Modified ECQ Areas and Quarantine Procedures Travel Advisory
A 'modified' Enhanced Community Quarantine (ECQ) will be implemented in the National Capital Region, Laguna, and Cebu City starting May 16 until May 31 as the Philippines' fight against COVID-19 continues.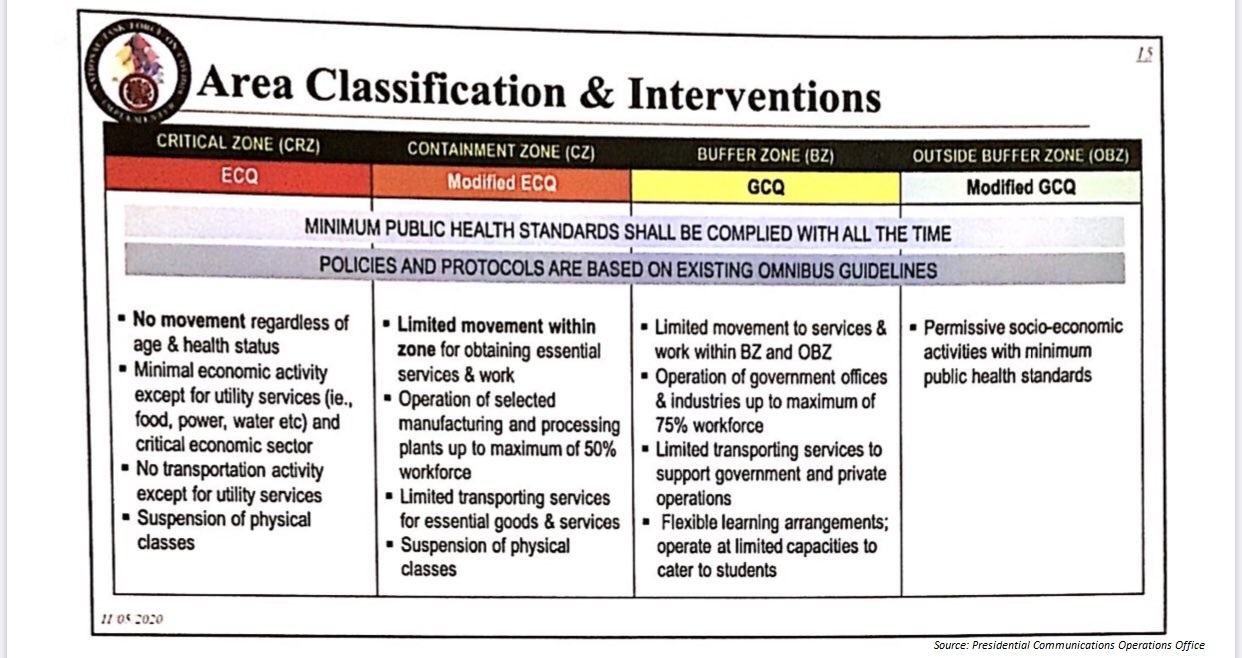 This means a slight easing in the lockdown and opening of some industries. However, some areas inside the modified ECQ will remain in tight lockdown particularly those with a high number of confirmed COVID-19 cases.
Select industries that will be allowed to operate up to a maximum of 50% workforce capacity are still being finalized as well as those that will be placed in a hard lockdown, depending on the recommendations of local government units.
As of May 12, 2020, the Health Department has tallied a total of 11,086 confirmed COVID-19 cases in the Philippines. From that number 729 have died while nearly 2,000 have recovered.
Also on Tuesday, the Ninoy Aquino International Airport (NAIA) in Manila resumed international flight arrivals. Aviation authorities gave the approval, but issued certain conditions. This arrangement will remain in effect in until June 10, 2020.
Chartered International inbound flights are only allowed on Mondays and Thursdays.
Commercial flights are scheduled on Tuesdays, Wednesdays, Saturdays, and Sundays.
Both types of flights must first secure clearance from the Philippine Foreign Affairs Department and the Civil Aviation Authority.
Only returning residents, Philippine passport holders, foreign dignitaries and diplomats can join inbound flights.
Tourists are still not allowed.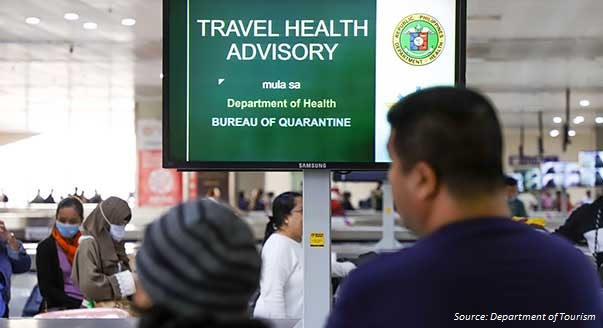 STRINGENT AND MANDATORY QUARANTINE PROCEDURES UPON PH ARRIVAL
The Philippine Airlines has released travel advisory to all travel agents and international passengers arriving in the Philippines, which is strictly implemented effective immediately.
All passengers will be required to undergo quarantine for at least 14 days after arrival in the Philippines.
Upon arrival, passengers will need to undergo special screening procedures at the airport to be conducted by government health professionals. The screening will determine the type of quarantine that will be required, whether "stringent" or "mandatory":
1. STRINGENT QUARANTINE
Required for all passengers coming from a 'high-risk' area (identified by the WHO as an area with high level of COVID-19 community transmission), or from a high-risk vessel in the case of sea-based overseas Filipinos; or any passenger with flu-like symptoms as assessed by a health officer at the airport.
Must undergo RT PCR COVID-19 testing at the port of entry or designated quarantine facility; and
Must stay in a government-designated stringent quarantine facility until their test results are released.
If test results are positive, will be transferred to a designated hospital for further medical management.
If test results are negative, will be allowed to move out to undergo a 14-day quarantine at home or an appropriate local monitoring facility
2. MANDATORY QUARANTINE
Required for all other passengers (those not assigned to undergo stringent quarantine)
Must undergo Rapid Antibody COVID-19 testing; and • Must stay at a government-designated 14-day mandatory quarantine facility. Passenger will have the option to stay at a hotel designated as an approved quarantine facility, at his or her choice and own expense.
For more details and information on these new requirements and related concerns, you may call the government's One Stop Shop hotline number +63 916 101 9964.