April 29th, 2020
One-Stop-Shop Process for Repatriated Overseas Filipino Workers (OFWs)
The Government's 'Back to the Province' (Balik-Probinsya) initiative is gaining steam after it was suggested by a Philippine senator as Metro Manila faces congestion problem amid the COVID-19 pandemic.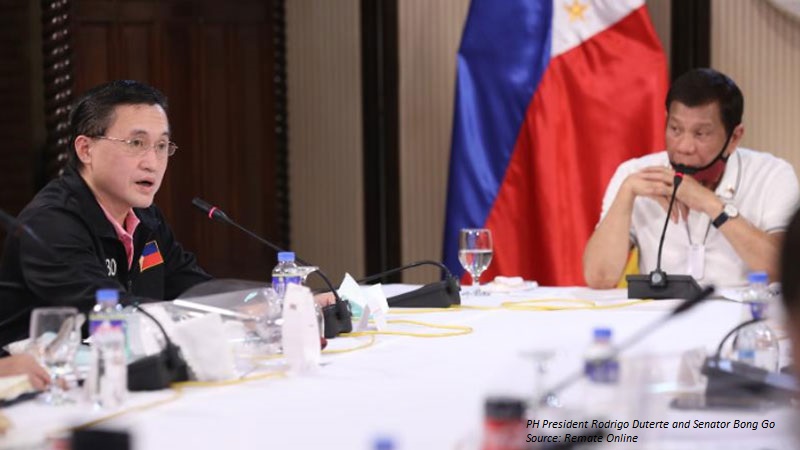 President Rodrigo Duterte himself backs the initiative suggested by his former aide and now senator Bong Go. 'If we disregard Metro Manila's congestion, there is a higher chance that the virus will continue to spread,' said Go.
Under the proposed Balik-Probinsya program, the government will provide transportation for Metro Manila residents who seek to relocate to the provinces, provided they test negative for COVID-19. Everyone can take advantage of the offer including the thousands of seafarers repatriated due to cancelled operations at sea.
As of April 29, two ships carrying around 500 repatriated Filipino seafarers who availed this Balik-Probinsiya program have already left the port. With the unity and support from the government and industry agencies, guidelines on the one-stop-shop for returning OFWs and seafarers have been released.
ONE-STOP-SHOP PROCESS FOR ARRIVING OFWS AND GUIDELINES ON OVERALL PERSON RESPONSIBLE (OPR)
STEP 1: Health Check by BOQ
OPR: Bureau of Quarantine (BOQ)
Thermal Scanning
Issuance of Health Declaration Form
STEP 2: Care Kits Distribution by DOT/DOTr/MIAA
OPR: Department of Tourism (DOT), Department of Transportation (DOTr), Manila International Airport Authority (MIAA)
DOT Care Kits Distribution
DOTr – MIAA Malasakit Help Kits Distribution
STEP 3: Mandatory Quarantine Briefing by IATF Subtask Group on Repatriation
OPR: Philippine Coast Guard (PCG), Office for Transportation Security (OTS)
Mandatory Quarantine Briefing from PCG and OTS
Data Encoding and Interview by PCG
Rapid Testing by PCG
STEP 4: Travel Documents Checking by BOI OPR: Bureau of Immigration (BOI)
STEP 5: Baggage Claim at the Carousel
STEP 6: Hotel Booking and Reservation by LMA/Shipping Company/OWWA/MARINA
OPR: Licensed Manning Agency (LMA)/Shipping Company, Overseas Workers Welfare Administration (OWWA), Maritime Industry Authority (MARINA)
STEP 7: Transportation and Check-In to Quarantine Facilities
OPR: LMA/Shipping Company, DOTr, OWWA, PCG
STEP 8: Quarantine Check-Ups OPR: Department of Health (DOH), PCG, BOQ, Philippine National Police (PNP)
Mid and post check ups, 7th and 14th day) by DOH/BOQ/PCG
Security by PCG/PNP • Issuance of Quarantine Clearance if cleared
STEP 9: Transportation to Area of Residence
OPR: LMA, OWWA, PCG, DOTr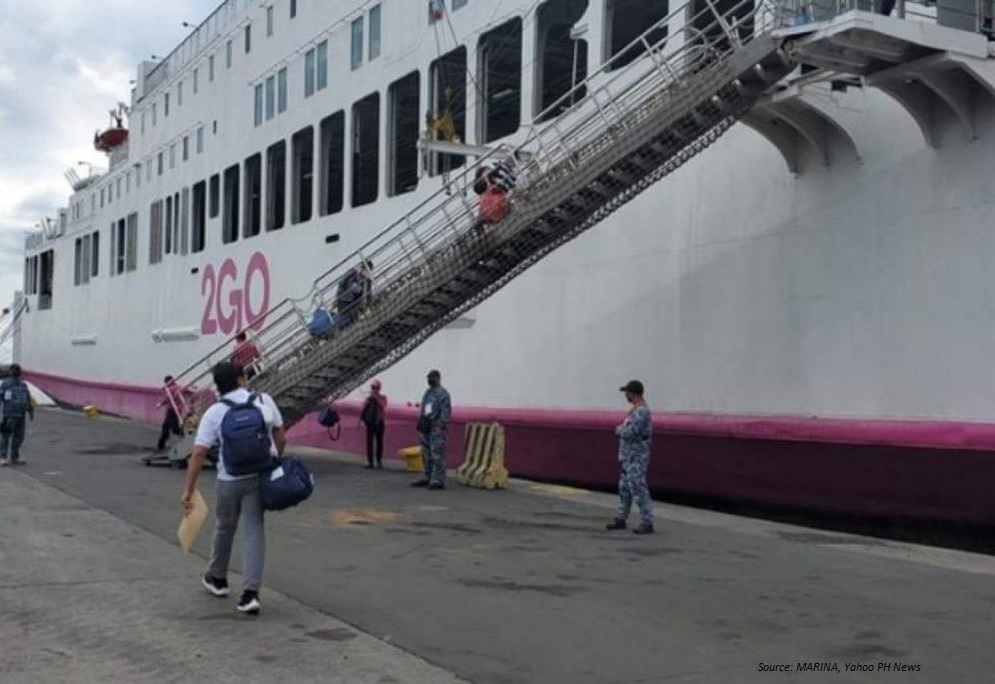 ONE-STOP-SHOP PROCESS FOR TRANSPORTATION OF STRANDED SEAFARERS IN METRO MANILA TO VISAYAS/MINDANAO
Reservation and Booking
OPR: LMA/ Shipping Company, MARINA
Identify seafarers who have completed the mandatory 14-day quarantine procedures.
Only seafarers with corresponding "Authority to Travel" secured from the National Task Force Against COVID-19 shall be allowed to travel.
Coordinate with 2Go as regards booking and reservation of tickets of the stranded seafarers to confirm schedule of voyage to a particular port of destination.
List of names shall be provided to MARINA, PCG, PPA, and 2Go at least two (2) days before schedule of departure
Transportation to Pier 4, Port Area, Manila
OPR: LMA/ Shipping Company, DOTr, MARINA
Land transportation from hotels and/or quarantine facilities shall be arranged by the seafarer's manning agency or shipping company.
Notwithstanding any arrangement made by the manning agency or shipping company for the land transportation, concerned authorities may initiate actions for the provision of transportation utilities for this purpose.
Only those seafarers who are scheduled to depart on the immediate upcoming voyage are allowed to be transported to Pier 4.
Seafarers (passengers) shall strictly be at Pier 4 Passenger Terminal six (6) hours before their scheduled time of departure for the protocols and testing procedures to be undergone before embarkation onboard the ship.
Conduct of Rapid Antibody Diagnostic Testing
OPR: PPA Personnel, Port Police, PCG, Medical Teams, MARINA
Passengers shall wear face masks at all times. Disinfection of hands shall likewise be undertaken.
A One-Stop-Shop shall be established as staging areas at Pier 4 for screening and rapid testing.
Initial screening shall be performed to ensure that only those seafarers scheduled to depart on the next upcoming voyage and who are on the list provided to the authorities and 2Go will be accommodated.
The initial screening where checking of names for admission shall as far as practicable take place at the covered ticketing area across the passenger terminal complex for easy visibility upon arrival.
Rapid Diagnostic Testing (RDT) shall immediately be performed by the medical team/s upon initial screening of the seafarers to avoid mass formations or congestion at the terminal.
The area for the conduct of RDT shall as far as practicable be designated at a location inside the passenger terminal complex.
Those who passed the screening and RDT shall be allowed to continue to the next procedure.
Seafarers who failed to meet the conditions set by the medical team/s in compliance with the implementing RDT protocols shall be isolated at a designated area and put under observation. Recommendations from the Medical Experts shall be followed.
Signage and markings shall be posted at conspicuous areas at the terminal proper to serve as guide to the seafarers.
Checking-In
OPR: Port Terminal Personnel/2Go, MARINA
Seafarers who passed the screening and testing protocols shall then be allowed to check-in at the check-in counters to enlist themselves as boarding passengers.
After checking-in, the seafarer shall immediately be allowed to proceed to the ship.
Boarding and Voyage
OPR: 2Go Security Personnel/ 2Go Crew Members, Port Police, PCG
The ship shall be readily available for boarding upon arrival of the seafarers and completion of all screenings.
Unimpeded boarding procedures from the terminal proper to the ship shall be executed. Any forms of delay that may expose the passengers to the risks from the environment shall be prevented.
A temperature scanning test to all embarking passengers and personnel shall be performed before embarkation onboard the ship.
Arrangement shall be made with the port helpers (porters) to ensure adequate manpower to aid ship personnel and passengers on the carriage of luggage, bags, etc.
Assisting personnel from the ship shall be well equipped with appropriate PPEs. Passengers shall immediately be guided to their designated rooms or bunks.
Strict social distancing measures shall be observed during the boarding procedures.
Measures and protocols of the 2Go throughout the process shall likewise be observed.
LIST OF LOCAL GOVERNMENT UNITS (LGUs) ACCEPTING REPATRIATED AND RETURNING OFWS DURING ENHANCED COMMUNITY QUARANTINE (ECQ) PERIOD THROUGH MARINA REGIONAL OFFICES
Aklan
Antique
Baciolod City
Batangas City
Bicol Region
Cagayan de Oro City
Camiguin
Capiz
Caraga
Cebu City
Cebu Province
Dapitan City
General Santos City
Ilocos Norte
Iloilo City
La Union
Lanao del Norte
Legazpi City
Lucena City
Romblon
Misamis Oriental
Negro Oriental
Occidental Mindoro
Pagadian City
Palawan
Province of Negro Occidental
Region 8
Surigao Del Norte
Zamboanga City
Zamboanga del Norte
Zamboanga Sibugay Province
LIST OF LGUs NOT ACCEPTING REPATRIATED AND RETURNING OFWs DURING ECQ PERIOD THROUGH MARINA REGIONAL OFFICES
Basilan
Bukidnon
Davao City
Siquijor
Sulu Province
Tawi tawi