June 20th, 2019
6 Diana Scholars among PMMA Class of 2019
San Narciso, Zambales - Six Diana Shipping scholars in the Philippine Merchant Marine Academy have completed their courses and are now part of the company's crew.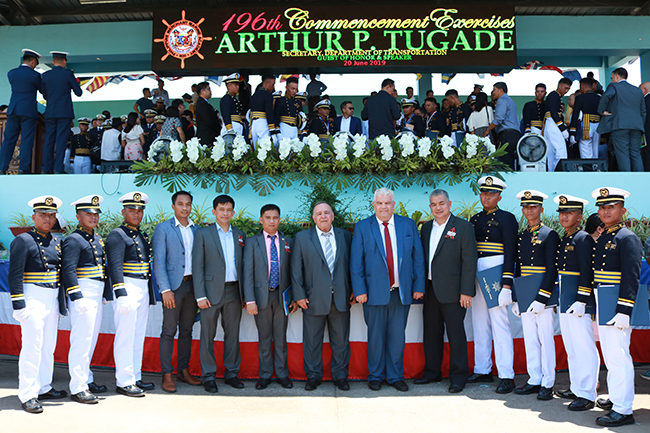 They are Jade Joseph C. Animas, Zenon A. Baniya, Jester Kim Cabrillos, Chester C. Caranay, John Fren Balabaguio who now have diplomas in BS Marine Transportation. Also finishing BS Maritime Engineering course with distinction Efficiency Medal Award is PMMA Class of 2019 cadet Manuel Ian F. Kag-Areng.
Diana Shipping, who has sponsored the cadets' education since entering the academy, expressed optimism on the future of the young crew as they now officially join the company.
Company officials Crew Manager Capt. Michael Foteines, Port Captain and Operations Department Head Capt. Nikolaos Tallas, and Crew Officer Ms. Eleni Vazintari attended the graduation of the cadets as a sign of support. Also present were Crossworld Vice President Arnold Mendoza, Operations Director Capt. Rene Espinar and other employees from the company.

Diana Shipping representatives attend PMMA Graduation 2019
The graduation ceremony was held at the PMMA complex last June 20, 2019 with Transportation Assistant Secretary Fernando Juan C. Perez as guest of honor in place of DOTr Sec. Arthur Tugade who was unable to attend the event. Also present were officials from the Commission on Higher Education and the Philippine Coast Guard.
The PMMA Class of 2019 is composed of 182 graduates of BS Marine Transportation, BS Marine Engineering, Master in Shipping Management, and Master in Maritime Education and Training.

Diana Shipping representatives attend PMMA Graduation 2019